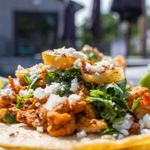 Rockin Tacos
2 tbsp Olive Oil
½ sweet onion, finely chopped
½ red bell pepper, finely chopped
2 tsp minced garlic
1 lb ground turkey*
2 Tbsp Alchemy Mexican Mole
½ cup water
Taco Sized Tortillas - flour or corn
In large skillet, heat oil over medium-high heat. Add onion and bell pepper. Saute for 4-5 minutes until onion is tender and translucent. Add garlic. Saute for an additional 2 minutes. Add turkey, Mexican Mole, and water. Using side of cooking spatula, break up turkey to brown. Mix all ingredients well while continuously moving with spatula. Cook until cooked through and water is mostly evaporated. Approximately 7 minutes.
Serve with heated flour tortillas & guacamole.
*substitute tofu, ground beef, cooked pulled chicken, or canned beans, black, pinto, kidney, garbanzo - drained. You may also substitute with rough chopped mushrooms, however, you will not need to add water as mushrooms release moisture.