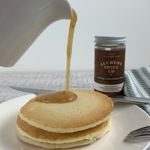 When you are craving fall flavors, this will do the trick!  Perfect for pancakes, waffles, french toast and more.  Featuring the Alchemy Breakfast & Baking blend, warm spices marry with apple cider to make a simple syrup. Store in the refrigerator. 
Apple Cider Syrup
1 cup sugar
2 Tbsp cornstarch
1 tsp Alchemy Breakfast & Baking Blend
2 cups apple cider
2 Tbsp lemon juice
1 stick butter, melted

In a medium saucepan, whisk together sugar, cornstarch, and Alchemy Breakfast & Baking Blend. Turn heat on to medium. Whisk in cider and lemon juice, stirring constantly over medium heat until it boils and thickens. Boil for 1 minutes. Remove from heat and whisk in melted butter. Makes approximately 2 cups.
Serve with pancakes, crepes, french toast, or over ice cream.