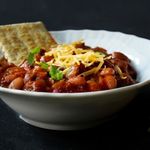 Classic Beef and Bean Chili
1 lb ground beef
1 medium yellow onion, diced
2 Tbsp Alchemy Chili Blend
1 Tbsp Alchemy Southwest Blend
1 tsp Alchemy All Purpose Seasoned Salt
1 28 oz can crushed tomatoes
1 15 oz can diced tomatoes
4 15 oz cans pinto beans (or your preferred chili bean), drained & rinsed
4 cups beef stock

In a dutch oven, brown ground beef. Add onion and Alchemy spices. Saute for 4-6 minutes until onions are soft. Add remaining ingredients. Bring to a boil, reduce to a simmer. Simmer, uncovered for 15-20 minutes. Serve with your favorite chili toppings.