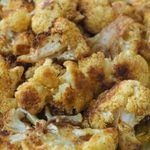 Roasted Cauliflower Soup
1 large head of cauliflower
3-4 Yukon Gold potatoes, peeled
3 tsp minced garlic
1 yellow onion, diced
2 tablespoons olive oil
1 tablespoon Vegetable Blend
4 cups chicken broth (or vegetable)
1 cup water
1 cup heavy cream (or canned coconut milk)
Preheat oven to 450.
Cut cauliflower and potatoes into 1 inch pieces. Line a baking sheet with parchment or foil. In a large bowl, toss cauliflower and potatoes with garlic, onion, Alchemy Vegetable Blend, and olive oil. Roast veggies in a single layer on baking sheet for 25-30 minutes until tender and beginning to brown.
In a dutch oven or large sauce pan, bring broth, water, and roasted vegetables to a boil. Reduce heat and simmer for 20 minutes or until veggies are tender. Using an immersion blender, puree soup until smooth. Stir in heavy cream. Taste and adjust seasonings. You may want to add some Alchemy All Purpose Seasoned Salt or Alchemy Scenic City Grilling Pepper.