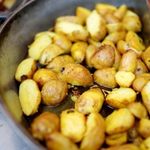 Crispy potatoes cooked in a hot skillet in under 30 minutes, perfect for a weekend brunch or weeknight dinner, featuring Alchemy Spice Company's All American Blend. 
All American Skillet Potatoes
1 lb red skinned or yukon gold potatoes (3-4 large)
2 Tbsp vegetable oil
1 Tbsp Alchemy All American Blend
Alchemy Himalayan Pink Salt*, to taste.
10-12 inch skillet with lid that fits well
Wash & quarter potatoes lengthwise, then cut each piece crosswise into 1-inch wide chunks. No need to peel the potatoes. 
Heat oil in a 10 to 12-inch cast iron skillet over medium heat until oil shimmers. 
Add the potatoes, arrange in a single layer cut-side down, and season with 1/2 Tbsp of Alchemy All American blend. Cover with a tightfitting lid and cook undisturbed until the potatoes are tender and the bottoms are golden brown, about 20 minutes. 
Uncover. Turn each piece with tongs to a second cut side. Season with the remaining Alchemy All American Blend. Increase the heat to medium high and cook uncovered until the second side is golden brown, 5 to 10 minutes more, moving the pieces around as needed so they brown evenly.
Taste and season with Alchemy Himalayan Pink Salt.   
Serve immediately. 
*you may substitute Himalayan Pink Salt with any of the Alchemy gourmet salts.