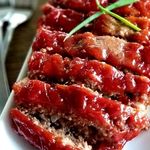 Nothing says ultimate comfort food like a great meatloaf.  Our All American Meatloaf is blend of ground beef and pork, loaded with flavor and seasoned to perfection, wrapped in love - actually bacon which is basically edible love.  Featuring our All American Blend, this smoky meatloaf recipe is easily doubled so you can make a meatloaf tonight and freeze one for later.
All  American Meatloaf
2 pounds ground meat (1 ¼ lb ground beef - ¾ lb ground pork)
2 large eggs, beaten
2 Tbsp Alchemy All American Blend
½ cup bread crumbs
½ cup milk
2 Tbsp olive oil
1 small yellow onion, finely diced
1 large carrot, finely diced
1 large stalk celery, finely diced
2 tsp minced garlic
1 Tbsp tomato paste
½ cup ketchup
½ lb bacon strips

Preheat oven to 350. LIne a rimmed baking sheet with foil.
In a small bowl, mix bread crumbs and milk. Set aside.
In a skillet over medium high heat, saute onion, carrot, celery, and garlic with olive oil for 7-8 minutes until soft. Add tomato paste and combine well. Remove from heat. Cool slightly.
In a large bowl, combine ground meat, eggs, Alchemy All American Blend, bread/milk mixture, and veggies. Working quickly and gently, use your hands mix until just combined.
Transfer to foil lined, rimmed baking sheet and mold into a 9x5 loaf.
Paint with ¼ cup of ketchup and cover in bacon strips.
Bake for 45 minutes. Remove and paint with remaining ketchup. Return to oven for another 15 minutes or until internal temperature is 155.
Let rest for 10 minutes before slicing and serving.