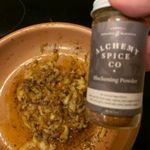 A crispy topping for burgers, chicken, or a steak, featuring Alchemy's Blackening Powder. 
Blackened Skillet Onions
½ stick unsalted butter
1 tsp minced garlic
1 large yellow onion, halved lengthwise and thinly sliced
1 Tbsp Alchemy Blackening Powder

In skillet over high heat, melt butter. Add onion to pan and saute for 3-4 minutes until tender. Add garlic and Alchemy Blackening Powder. Continue to saute for another 5-6 minutes until softened onions are golden brown. Serve.
Delicious topping on steak, chicken, salmon, or burger.