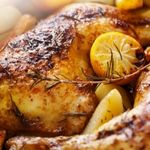 CLASSIC Roasted Chicken
1 whole chicken, washed and dried
1 large onion, cut into medium sized pieces
1 lemon, quartered
2 Tbsp Alchemy Herbs de Provence
1 stick salted butter, softened
Preheat oven to 450 degrees. 
Stuff chicken cavity with lemon and onion.
In a small bowl, mix butter and 1 Tbsp Alchemy Herbs de Provence. 
Create a pocket between chicken and skin and insert compound butter. 
Season outside of chicken generously with remaining Tbsp of Alchemy Herbs de Provence. 
Roast chicken for twenty minutes; reduce heat to 350 and roast for an additional 45-50 minutes.  Thickest part of breast should reach internal temperature of 160 degrees and juices will run clear.