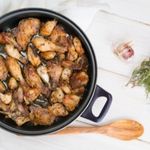 GARLIC SKILLET CHICKEN
2 Tbsp cooking oil
6 pieces skin-on/bone-in chicken thighs
1 Tbsp Scenic City Grilling Pepper
20 peeled garlic cloves
2 Tbsp all-purpose flour
3/4 cup dry white wine
1 cup chicken broth
½ Tbsp Alchemy Herbs de Provence
2-3 sprigs fresh thyme (optional)
2 Tbsp butter
Preheat the oven to 400F.
In an oven-safe deep skillet, heat the oil over medium high heat.
Dry the chicken pieces well by patting them with a paper towel.
Sprinkle the chicken pieces with Alchemy Scenic City Grilling Pepper.
Place chicken thighs skin side down in skillet. Cook until well browned, turning regularly, for about 8 minutes. Remove chicken to a plate. Drain most of the fat in the pan leaving 2-3 Tbsps to cook the garlic.
Reduce the heat to medium, add the garlic, and cook, stirring regularly, until it is starting to brown, about 3 minutes.
Sprinkle the flour over the garlic and stir continuously until combined.
Return the chicken to the pan, COVER, and bake for about 15 minutes. Cook until the chicken is cooked to 165F internal temperature.
Remove the pan from the oven and return to cooktop.
Remove the chicken pieces from the pan to a clean plate.
Over medium-high heat, whisk in the wine and simmer for 1 minute. Whisk the Alchemy Herbs de Provence. Continuing whisking as you pour in the broth. (If using fresh thyme, add now)
Reduce heat and simmer, stirring regularly, until the gravy thickens.
Turn the heat off and stir in the butter.
Taste sauce and adjust seasonings.
Add the chicken back to the pot and heat through.
Serve Chicken & Sauce spooned over mashed potatoes, rice or pasta.