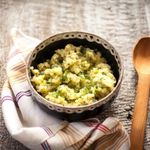 Dill Potato Salad
3 lbs red or yukon gold potatoes potatoes, washed and diced
1 tsp Alchemy Himalayan Pink salt
2 stalks celery, finely diced
3 Tbsp finely sliced green onion
¾ cup mayonnaise
½ cup sour cream
2 Tbsp lemon juice
2 Tbsp Alchemy Dill Blend
1 Tbsp dijon mustard
½ tsp Alchemy All Purpose Seasoned Salt
In a large pot, add potatoes, Alchemy Himalayan Pink Salt, and water to cover the potatoes by an inch. Bring to a boil. Cook potatoes until they are tender, approx. 15-20 minutes. Remove from heat and pour into a colander. Rinse gently for 30 seconds with cool water to stop cooking. Allow to cool completely.
In a large bowl, mix remaining ingredients (except the potatoes) until well combined.
Fold in potatoes. Refrigerate at least one hour. Salad will be exceptional the next day after flavors have time to meld.