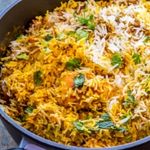 Chicken Biryani
Rice
4 cups cooked basmati rice
Protein*
1 ½ pounds boneless skinless chicken thighs
1 cup plain yogurt
1 Tbsp Alchemy Curry Blend
Other ingredients
2 Tbsp Olive Oil
1 medium yellow onion, sliced
2 cups shredded carrot
1 red bell pepper, sliced
2 tsp minced garlic
½ tsp Alchemy Seasoned Salt
1 tsp Alchemy Curry Blend
1 Tbsp Alchemy Garam Masala
Directions:
In a medium bowl, mix yogurt and Alchemy Curry Blend. Add chicken thighs, mix until chicken is coated. Cover and refrigerate for 20 minutes or up to overnight.
Preheat oven to 350.
Heat oil in a large skillet over high heat. Add onion. Saute 3-4 minutes until softened. Add carrot, bell pepper, and garlic. Saute another 3-4 minutes until softened and releasing liquid. Add Alchemy Seasoned Salt, Curry Blend and Garam Masala. Mix well. Set mixture aside in bowl. In same skillet, reduce heat to medium, add marinated chicken, stirring frequently - cook for 5 minutes. Return vegetables to skillet. Gently mix until well combined, reducing heat to medium- low, continue to cook until chicken is cooked through - about 6-8 minutes.
Once rice is finished cooking - transfer to greased baking dish. Add chicken-veg mix, gently folding until completely mixed. TASTE - adjust any seasonings.
Place baking dish in oven and bake for 12-15 minutes until top is a bit crunchy.
Serve. This dish will be even more flavorful the next day! Perfect for lunch leftovers.