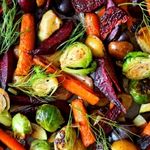 Roasted Vegetables with Balsamic Drizzle
2 Sweet Potatoes
2 Zucchini
1 Yellow Squash
½ Red Onion
1 Red Bell Pepper
1 pkg sliced Baby Bella Mushrooms
2-3 Tbsp Olive Oil
1 Tbsp Alchemy Greek Blend
Balsamic Glaze (found next to vinegars in grocery store)
Preheat Oven to 350
Prep vegetables: Peel and dice sweet potatoes into ¾ inch cubes. Wash and slice zucchini, squash, red onion. Wash and dice red bell pepper into 1 inch pieces. In a large bowl, add all vegetables. Drizzle with olive oil. Season with Alchemy Greek Blend. Gently toss.
Line a baking sheet with foil or parchment paper. Spread vegetables out evenly in a single layer onto the baking sheet.
Roast for 30 minutes or until desired tenderness.
To adjust quantities: 1 ½ cup diced raw vegetables = 1 portion cooked vegetables