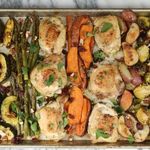 Lemon-y Chicken with Potatoes, Carrots & Brussels
½ stick salted butter (4 tablespoons)
2 lemons, zest (yields approx. 2 tablespoons) and slice thinly
1 tablespoon Alchemy Lemon Pepper
3 tablespoons plus 1 teaspoon olive oil
4 bone-in, skin-on chicken thighs (about 1 1/2 to 2 pounds)
1 pounds brussels sprouts, trimmed and halved, tough outer leaves removed
3-4 small to medium whole carrots, peeled and tops trimmed
3-4 yukon gold potatoes, peeled and quartered
1 small red onion, peeled, quartered and cut into 1-inch wedges
¼ cup shredded Parmesan Cheese (optional), for serving
Heat the oven to 400 degrees. Place one rack in the lower third of the oven.
Rub one teaspoon olive oil over large, rimmed sheet pan.
Compound butter: In a large bowl, combine the butter, zest of both lemons, and 2 teaspoons of Alchemy Lemon Pepper.
Prepare Chicken: Pat the chicken dry, transfer to the sheet pan and arrange skin side up. Reserve about 1 teaspoon of the compound butter in the bowl and set aside. Rub the rest all over the chicken and under the skin by lifting it up, pushing a tiny amount of compound butter underneath, then pressing on top. Season with 1 tsp Alchemy Lemon Pepper.
Prepare Vegetables: Add 3 tablespoons olive oil and 2 tsp Alchemy Lemon Pepper to bowl with reserved compound butter. Add brussels sprouts, potatoes, and onion wedges; toss to coat. Arrange the vegetable mixture around the chicken, tuck in whole carrots and place lemon rounds on top of chicken and vegetables.
Roast: Roast on the lower rack, 30 to 35 minutes, stirring the vegetables halfway through, until the chicken is crispy, the chicken juices run clear when the meat is pierced with a fork, and the brussels sprouts are browned and crunchy. Transfer to the serving platter. (If the chicken skin is not as crispy as you'd like, transfer the vegetables to a serving platter, then place the chicken under the broiler for 1 to 3 minutes.)
Serve: Sprinkle chicken and vegetables with parmesan cheese