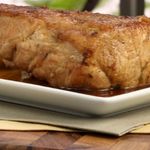 Roasted Pork Tenderloin
1 lb Pork Tenderloin
1 Tbsp dijon mustard
1 T olive oil + 1 T olive oil
2 Tbsp Alchemy Herbed Pepper
Preheat oven to 400° F. Line a baking sheet with foil.
Combine dijon mustard & 1 Tbsp olive oil in a small bowl. Brush over the pork.
Sprinkle or roll tenderloin in Alchemy Herbed Pepper.
Heat 1 Tbsp olive oil in a skillet over medium heat. Sear pork until golden brown, about 2 minutes per side. Place pork on baking sheet and roast for 15-18 minutes (meat thermometer reads 145° F when done) Allow to rest for at least 5 minutes before slicing.