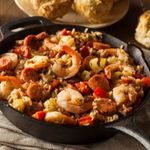 Chicken, shrimp, and sausage - what's not to love in the classic Cajun Jambalaya. Featuring Alchemy's Cajun Blend,  this one dish dinner is perfect for gameday! 
Shrimp Jambalaya
1 lb chicken boneless, skinless chicken, cut into 1 inch pieces
1 lb medium shrimp, peeled and deveined
1 lb smoked sausage, sliced
2 center stalks of celery with leaves, finely diced
3 medium yellow onions, finely diced
2 green peppers, finely diced
1-3 jalapeno peppers, seeds & membranes removed, finely diced
12 oz. beer
3 Tbsp Alchemy Cajun Blend
3 cups uncooked white rice
Salt*, Pepper*, and Hot Sauce to taste

In a large stock pot, bring 8 cups of salted water to a boil.
Add chicken pieces to boiling water. Reduce heat to soft boil gently for 10 minutes until chicken is cooked through. Remove chicken and set aside.
Add shrimp to hot water. Turn up the heat, boil for 2-3 minutes until shrimp is cooked. Remove shrimp and set aside.
Reserve cooking water.
Return empty pot to medium-high heat. Add 2 Tbsp of olive oil to pan. Add sliced sausage and brown on both sides - approx 2-3 minutes per side. Remove sausage and set aside.
Add celery, onions, green and jalapeno peppers to pot and saute for 3-4 minutes until softened. Add beer to the pot and scrap all browned bits from bottom of pan. Add uncooked rice and heat through, stirring continuously. Return chicken, shrimp, sausage to pot. Stir well. Add 5 cups of reserved water to pan. Bring to a boil, reduce heat and stir frequently as rice is cooking. Continue to add more cooking water to pot, ½ cup at a time, until rice is completely cooked - approx 20 minutes.
Adjust seasoning and serve.
Note: Jambalaya can be frozen in a well-sealed container or bag to be reheated at a later date.
*Alchemy All Purpose Seasoned Salt and Alchemy Scenic City Grilling Pepper are recommended.