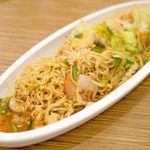 Spicy Thai Noodles
Ingredients:
1 lb linguine pasta (or fettuccine, spaghetti, etc)
5 Tbsp toasted sesame oil
5 Tbsp soy sauce
5 Tbsp honey
1 Tbsp Alchemy Spicy Thai Blend
Optional: Add cooked chicken, beef, pork, seafood, or meatless protein.
To Garnish: (choose your favorites from list below)
Sliced Scallions
Shredded Carrot
Dry Roasted Peanuts
Chopped Cilantro
Sriracha
White or Black Sesame Seeds
Directions:
Prepare garnishes and set aside.
Boil pasta, drain.
While pasta is boiling, heat oil in a large skillet.
Whisk in soy sauce, honey, and Alchemy Spicy Thai Blend.
Toss noodles into the skillet with the sauce. Using tongs, toss until noodles are well coated.
Can be served hot, room temperature or cold.
Top with garnishes and enjoy!
Chef's Notes:
We love using pulled chicken from a rotisserie chicken. In a separate small skillet, heat 1 Tbsp oil over medium-high heat, add chicken and 1 tsp Alchemy Scenic City Pepper. Toss until chicken is well coated and heated through.