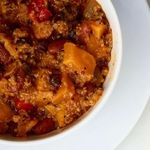 Although this recipe is technically vegan, it has a density that is sure to please a carnivore.  Adding the quinoa bumps up the protein.  Featuring Alchemy Chili Blend, this chili is made in the Instant Pot.  
Potato & Black Bean Chili (Instant Pot)
1 Tbsp olive oil
1 medium yellow onion, diced
2 medium sweet potatoes, peeled and diced (4 generous cups)
2 medium red bell peppers, diced
4 tsp minced garlic
2 Tbsp Alchemy Chili Blend
2 1/2 cups vegetable broth
1 (8-ounce) can tomato sauce
1/2 cup uncooked quinoa
2 (15-ounce) can black beans, rinsed and drained
1/2 teaspoon granulated sugar

To a 6-quart or large Instant Pot, add the olive oil. Turn to SAUTE and let the oil heat. Once the oil is hot, add the onion and cook until beginning to soften, about 3 minutes. Add the sweet potatoes, bell pepper, garlic, and Alchemy Chili Blend. Cook for 1 to 2 additional minutes, until the garlic is fragrant and you can smell spices.
Add half of the vegetable broth and stir, scraping up any stuck-on bits of food (this will prevent a burn warning and distribute great flavor to your chili). Stir in the remaining broth and the quinoa. Pour the tomato sauce on top (do not stir again).
Cover and seal the Instant Pot. Cook on manual (HIGH) pressure for 8 minutes. Immediately release the pressure. Carefully open the Instant Pot.
Turn the Instant Pot to OFF. Stir in the black beans and sugar. Place the lid back on top and let stand 10 minutes to heat through. Uncover. Taste and adjust seasoning as desired. Ready to serve!