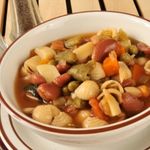 Weeknight Minestrone Soup
2 Tbsp olive oil
1 yellow onion, diced
2 stalks celery, sliced
1 cup shredded carrots
1 zucchini, halved and sliced
2 tsp minced garlic
1 Tbsp Alchemy Italian Blend
1/4 cup tomato paste
14 oz can diced tomatoes
4 cups vegetable broth
15 ounce can small white beans, drained and rinsed
15 ounce can kidney beans, drained and rinsed
1 cup frozen cut green beans or 1 can green beans, drained and rinsed
1/2 cup small shell pasta
2 cups baby spinach leaves
Salt and pepper, to taste*
Heat the olive oil in a large pot over medium high heat.
Add the onion, celery, carrots and zucchini to the pot and saute for 3-5 minutes until the vegetables are tender.
Add the garlic and Alchemy Italian Blend. Saute for another minute.
Add tomato paste. Saute for another minute, mixing to coat vegetables well and heat through.
Add the diced tomatoes and vegetable broth to the pot. Stir. Bring to a boil then reduce heat to simmer.
Add the white beans, kidney beans, green beans and pasta to the pot. Simmer for 10-15 minutes or until pasta and all vegetables are tender.
Season the soup with salt and pepper to taste.
Stir in the spinach leaves and cook for 2-3 minutes or until wilted.
Soup is ready to serve. After dishing into bowls, top with a generous sprinkling of shaved parmesan cheese.
*suggested Alchemy Pink Himalayan Salt and Scenic City Pepper