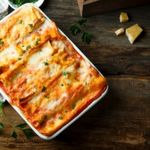 Four CHEESE LASAGNA
1 lb ricotta cheese
8oz cream cheese, room temperature
4 cups shredded mozzarella cheese, divided
1 cup shredded parmesan cheese, divided
4 tablespoons Alchemy Italian Blend, divided
1 package oven ready lasagna noodles
1 lb ground beef or italian sausage
24 oz jar marinara sauce
14 oz can petite diced tomatoes
Preheat oven to 350.
In a large bowl, mix ricotta, cream cheese, 2 cups mozzarella, ½ cup parmesan and 2 tablespoons Alchemy Italian Blend.
In a large skillet, brown ground beef (or italian sausage) and drain well. Add 1 ½ tablespoons of Alchemy Italian Blend to your browned meat, saute for 1 minute allowing spices to heat and open. Add tomatoes and mariana to the meat mixture and heat through, about 3 minutes. Remove from heat.
Spray a large baking dish (9x13) with non stick spray.
Begin by ladeling ¾ cup of meat sauce into bottom of dish. Spread evenly.
Layer with noodles.
Using a scoop, scoop 6 scoops of cheese mixture. Top with another layer of noodles, pressing gently on noodles to spread cheese mixture.
Ladle 1 ½ cups meat mixture
Top with noodles
Cheese mix
Noodles
Remainder of meat mix
Top with mozzarella, parmesan & sprinkle with remaining ½ T of Italian Blend.
Bake for 45 minutes