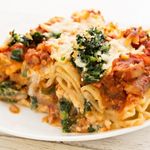 Weeknight Spinach Lasagna
1 lb. ground beef or italian sausage or meatless crumbles
1/2 yellow onion, finely chopped
2 tsp minced garlic
1 (32-oz.) jar marinara
16 oz. whole milk ricotta
1 large egg
3 cups shredded mozzarella, divided
1 cup shredded Parmesan, divided
1 ½ tablespoons Alchemy Italian Blend, divided
2 (12-oz.) packages frozen cheese ravioli
1 bag pre-washed baby spinach
Preheat oven to 350º
Generously spray a 9"-x-13" baking dish with cooking spray.
Heat a large nonstick skillet over medium heat.
Add ground beef and onion. Break up beef with a spatula and cook until beef is browned and onion is soft (about 8 minutes). Drain off fat.
Stir in the minced garlic and marinara.
Reduce heat and simmer for flavors to meld, 5 minutes.
While the meat sauce is simmering, in a medium bowl, combine ricotta, egg, 1/2 cup Parmesan, 1 cup mozzarella, and 1 tablespoon Alchemy Italian Blend.
Spread 1/3 of the meat sauce into the prepared baking dish.
Top with a single layer of ravioli, half of the ricotta mixture, half of the remaining meat sauce.
Evenly distribute baby spinach over the entire baking dish.
Repeat layers - ravioli, remaining ricotta mix, and remaining meat sauce.
Top evenly with shredded mozzarella cheese and parmesan cheese.
Sprinkle with ½ tablespoon of Alchemy Italian Blend.
Cover baking dish loosely with aluminum foil and bake for 30 minutes.
Remove foil and bake until golden and bubbly, 15 minutes more.
Let rest for 10 minutes before serving.