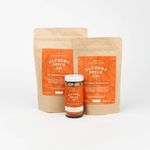 Brining poultry or pork for an hour or up to overnight will produce a moist, flavorful finished dish.  The salt in the brine breaks down the tough tissue while the additional herbs and seasonings of Alchemy All Purpose Seasoned Salt infuse flavor. 
All Purpose Brine for Poultry or Pork
4 Tbsp Alchemy All Purpose Seasoned Salt
2 Quarts of Water

Brining is a great technique to tenderize your meat if you are planning dry cooking - to roast, bake or grill.
Bring water to a boil. Remove from heat and mix in Alchemy All Purpose Seasoned Salt to dissolve. Allow to cool before adding poultry or pork.
For a weeknight brine on pork chops or chicken pieces, brine for 20 minutes prior to cooking.
For a pork roast or turkey breast or whole chicken, plan to brine overnight.