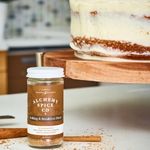 Mulling Spice Cake with Cream Cheese Icing
This aromatic cake begins with a simple cake mix. A few extra ingredients make this a truly extraordinary cake. Ice with a classic cream cheese frosting for a dessert that is sure to please a crowd.
Cake Ingredients:
1 Spice Cake Mix
1/2 cup Buttermilk
1/2 cup Apple Cider
1/2 cup Melted Butter
3 Eggs
1 Tbsp mayonnaise
1Tbsp Alchemy Breakfast & Baking Blend
1 tsp vanilla extract
Cake Directions:
Preheat oven to 350
Prepare (2) 8 or 9 inch pans with non-stick spray
A stand or hand mixer is recommended.
Mix all ingredients on low for 30 seconds. Increase speed to medium and mix for 2 minutes. Divide batter evenly between pans.
Bake for 25 minutes or until toothpick inserted comes out clean.
Cook for 20 minutes then remove from pans.
Cool completely before frosting.
****At this point, cakes may be wrapped tightly with saran and frozen for up to 3 months.
Cream Cheese Frosting Ingredients:
12 ounces cream cheese, softened
¾ cup unsalted butter (1 1/2 sticks), room temperature
1 ½ teaspoons vanilla extract
¼ teaspoon Alchemy Himalayan Pink
6 cups confectioners' sugar, sifted
Finely chopped candied ginger (optional)
Cream Cheese Frosting Directions:
Using a stand or hand mixer on medium speed, cream together butter and cream cheese until well blended. Add salt and vanilla. Mix until blended. On low speed, add ½ cup confectioners' sugar at a time, mixing well between additions. Once all sugar is incorporated, turn mixer up to high speed and whip for 30 seconds.
To Assemble:
Use a tablespoon or two of frosting to secure bottom layer to serving platter. Top bottom layer with frosting, spreading to edges. Add top layer of cake. Cover with a thick layer of frosting. Using a spatula, skim edges of entire cake with frosting, creating a "naked" icing look or, if desired, frost sides completely. Rough chop candied ginger and sprinkle on top of cake. Refrigerate until ready to slice and serve.