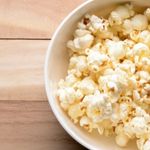 Salty, finger licking good, simple DIY popcorn featuring Alchemy's All Purpose Seasoned Salt.  
Incredible Buttered Popcorn
3 Tbsp Ghee (do not substitute)
3/4 cup popcorn kernels
2 – 3 tbsp extra ghee
½ Tbsp Alchemy All Purpose Seasoned Salt

In a large skillet (with lid that fits), heat 3 Tbsp of ghee over medium-high heat.
When ghee is melted, add kernels, shake quickly to spread across the base, put lid on. The kernels will start popping after a minute or so. Shake after 30 seconds or so. When the popping stops, immediately pour popcorn into a large bowl.
Melt extra ghee in microwave. Pour over popcorn, sprinkle with Alchemy. Shake and toss well to disperse. Extra fantastic served warm but still irresistible at room temp.