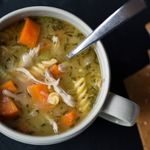 Classic Chicken Noodle Soup
2 tablespoons olive oil
1 large carrot, peeled and sliced thin
2 stalks celery, sliced thin
1 medium yellow onion, diced
2 tsp minced garlic
8 cups low-sodium chicken broth,
2 bay leaves
1 Tbsp Alchemy Poultry Seasoning
12 ounces wide egg noodles
2 cups shredded cooked chicken (use rotisserie chicken to save time)
Salt, to taste
To a Dutch oven, add the oil and heat over medium-high heat.
Add the carrots, celery, onion, and sauté for about 7 minutes, or until vegetables begin to soften. Stir intermittently. Add the garlic and Alchemy Poultry Seasoning. Sauté for another 1 to 2 minutes. Add the chicken broth and bay leaves. Bring to a boil. Allow mixture to boil gently for about 5 minutes or until vegetables are tender. Add the egg noodles and boil mixture for about 10 minutes, or until noodles are soft and cooked through. **At any time while making the soup, if the overall liquid level is lower than you like and you prefer more broth, adding a cup or two of water is okay. At the end you will adjust the salt level to taste.
Add the chicken and boil 1 to 2 minutes, or until chicken is heated through.
Taste soup and adjust seasoning. Remove the bay leaves, and serve immediately.