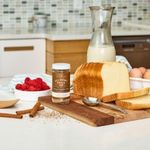 French Toast
What's better for a breakfast, brunch, or even a quick dinner than French Toast? Designed to use day old bread, this simple custard of egg & cream flavored with Alchemy's Breakfast and Baking Blend and vanilla is a simple dish to master and add to your weeknight repetoire. 
While this recipe calls for brioche bread, you can use your favorite bread - hearty wheat, sourdough, or even raisin bread. You may use oat milk or almond milk or cow's milk. Any of these work just fine. For a decadent treat use heavy cream or half and half. Just don't forget the Alchemy!

Ingredients:
1 loaf brioche bread
6 large eggs
1 cup extra creamy oat milk
1 Tbsp Alchemy Breakfast and Baking Blend
1 tsp vanilla extract
1 pinch Alchemy Pink Himalayan Salt
1/2 stick of butter (for cooking)
Directions:
In a shallow dish, whisk eggs, milk, Alchemy, and salt.
Heat skillet over medium high heat. Add half a pat of butter to pan.
Dip a piece of bread in custard mix. Flip to coat both sides, allowing a little to absorb into bread.
Lay coated bread on melted butter and cook 3-4 minutes until bread easily releases when pan is shaken and is golden brown. Flip and cook the other side. Repeat with each slice of bread.
​Chef's Tip: Cooked French Toast freezes beautifully and is a great grab & go weekday breakfast. Takes less than 2 minutes to heat from frozen in the microwave.