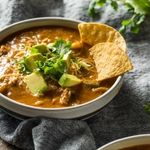 The Best-Ever Chicken Tortilla Soup
4 cups chicken broth
1 cup chunky salsa
1 Tbsp olive oil
1 large onion, diced
14.5 oz. can diced tomatoes
1 yellow or orange bell pepper, diced
1 jalapeno, seeds removed, minced
2 tsp minced garlic
1 Tbsp Alchemy Southwest Blend
1 ½ lbs. boneless, skinless chicken breasts, sliced thinly against the grain
15 oz can of whole kernel corn, not drained
To serve:
Tortilla Chips
Lime, cut into 6 wedges
Shredded cheese, optional
Sour cream, optional
Green onions, optional
Fresh cilantro, optional
Avocado, optional
Directions:
In a Dutch oven, bring chicken broth to boil over medium-high heat. Add salsa and reduce to a simmer. Add chicken to poach.
Meanwhile, heat skillet over medium heat, add olive oil, and saute onion, bell pepper, jalapeno pepper, and garlic until tender. Add Alchemy Southwest Blend and saute for another minute. Add skillet mixture to simmering broth. Add corn. Simmer for 15 minutes until flavors meld.
To serve: crunch some tortilla chips in the bottom of each bowl. Ladle soup over the chips. Squeeze a lime wedge into soup. Serve with your favorite toppings.